Business Coaching
Business Coaching – An Essential Component of a Successful Business – Give Your Business a Kick Start to Success Today
"Finally,  Presenting the Solution for all Those Niggling Issues that Stand in Your Way of  Being a Huge Success in Your Business"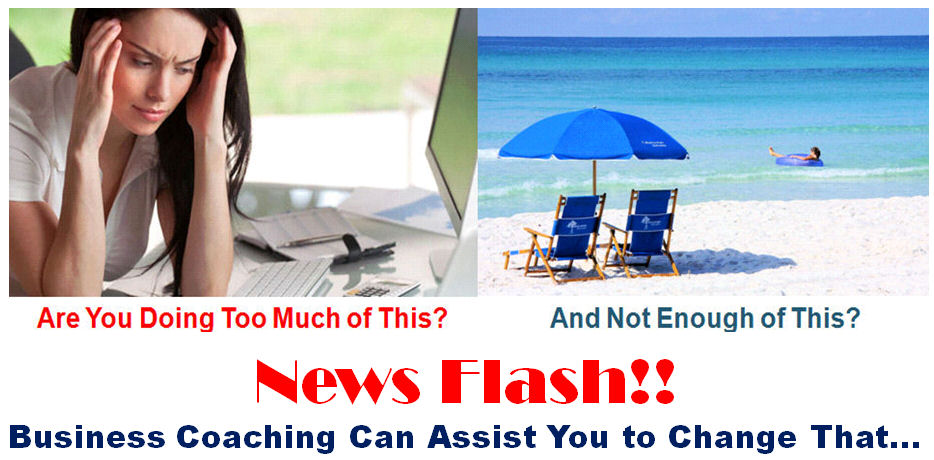 So often people in business spend so much time working "in" their business that they don't have time to work "on" their business. Working "in" your business rather than "on" your business doesn't allow you to step back and see the big picture. Creating a successful business takes time, planning and most of all creativity and flexability. The aim of the game in business is not to work harder but to work smarter and to keep up to date with current trends
The sole purpose of being in business is to make a  profit and to have the freedom to live your dream lifestyle.  But so often I meet people who are working very long hours in a business that isn't successful and has become stagnant. In short their business has become a job and not a very satisfactory or rewarding job at that. Now I have to ask  you…. "Would you want to work in a job where you were stagnating and there was  little or no opportunity to enjoy your work and expand your horizons in your  career?"   The answer is probably going to be a loud resounding  "NO".
There is a way out and a way forward.   Business Coaching is a fast growing industry and businesses all over Australia are hiring their own professional business coach to assist them to overcome problems in their business and to move forward towards their goals.  Having a business coach is no longer a luxury, with the rate things change in the business world, it is no longer a luxury to have a business coach, it is a necessity if you want to be successful in your business.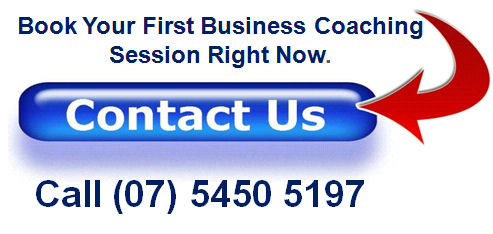 Sports people use coaches in order to get themselves to the peak of their performance.   Ask any successful sports person and they will tell you that it takes years of dedication and training to finally reach their goals.   Their coach is there striving with them ensuring that they keep moving towards attaining their goals and celebrating with them when they do.
Just as in sport, a business coach needs to be there for the long haul.  Your business coach is someone who helps get you through when times are tough and someone who can experience with you the exhilaration of winning.  If you want your business to perform at an elite level, you need a business coach.
Business Coaching can act as a reality check for your business. Being in business can be lonely because you need to constantly present an image of success to attract clients and customers.   This is fine when the business is thriving and everything is going along according to plan.  But business is also about peaks and troughs and when the going gets tough, business owners are sometimes afraid to admit they don't have all the answers. This is often one of the biggest reasons why businesses stagnate and even fail because the business owner tries to fix the problems from within the business using the same strategies that caused the business to stagnate or fail in the first place.  Business Coaching can act as a lifeline and generate new energy and ideas to your business.   Your business coach is there to stimulate your success attitude and to be someone to bounce new ideas off.
Read What Our Clients Say About Our Business Coaching Program

The Coaching  Muse Business Coaching Program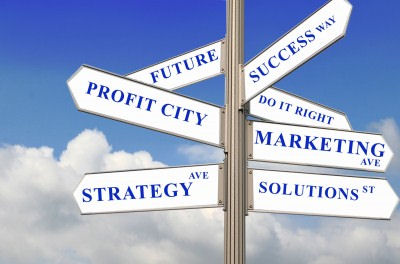 Here at the Coaching Muse, we understand that your business has specific needs and requirements which is why we tailor a business coaching program that is specific to not only the needs of your business but also your needs in the business.   Business Coaching is all about getting the successful results you want.
Our business coaching program runs initially for a 3 month period with the option to extend on a month by month basis after  that.  Your program begins with a 3 hour session in which we discuss the parameters for our business coaching sessions including the working relationship between you and your coach.  We review your business plan and the vision you have for your business.   If you do not have a business plan we will assist you to create a business plan and marketing plan for your business.  We will also review the system you have in place within your business with regard to marketing and staffing if this is an area of concern.   Your business coach will work with you to identify the problems you are facing and they will assist you with formulating a plan of action to overcome your problems.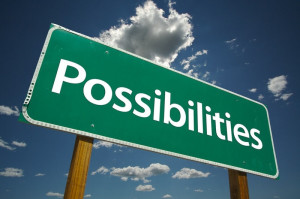 Your Second and Third sessions will be about 2 hours in duration.   Following that, your sessions will be 1 hour in  duration and will occur on a weekly basis.  Your business coach will also be available via email and phone between sessions for a total of .5 hours per week.
In addition, your business coach will assist you with identifying your values and aligning your personal values with your business values.  They will also assist with aligning the values of your staff members to your business values so that everyone is moving in the same direction.   Your business coach will assist you to create new goals and will keep you motivated to achieve those goals as well as playing the "tough guy" if you show signs of giving up.   They can assist you with staffing issues, training, sales and marketing including your website and social media issues.  The Coaching Muse is able to assist you with branding of your business and image consistency.
In fact, The Coaching Muse can assist you with just about everything to get you on the road to success.